Revelation - Chapters 14 & 15
The Second Coming
Revelation 14:14 – And I saw, and lo, a white cloud, and upon the cloud [one] sitting like to a son of man, having upon his head, a golden crown, and in his hand a sharp sickle; (YLT)
This verse is referring to the second coming of Jesus Christ. The son of man means Jesus. Here are a few similar passages:
Matthew 26:64 – Jesus saith to him, 'Thou hast said; nevetheless I say to you, hereafter ye shall see the Son of Man sitting on the right hand of the power, and coming upon the clouds, of the heaven.' (YLT)
2 Timothy 4:8 – henceforth there is laid up for me the crown of the righteousness that the Lord – the Righteous Judge – shall give to me in that day, and not only to me, but also to all those loving his manifestation. (YLT)
Jesus will arrive upon a white cloud in the air with a great crown which represents great authority. The overcomers will meet Him in the air and escort Him back to Earth to rule in the Age of Tabernacles.
The First Sickle
Revelation 14:15-16 – and another messenger did come forth out of the sanctuary crying in a great voice to him who is sitting upon the cloud, 'Send forth thy sickle and reap, because come to thee hath the hour of reaping, because ripe hath been the harvest of the earth;' and he who is sitting upon the cloud did put forth his sickle upon the earth, and the earth was reaped. (YLT)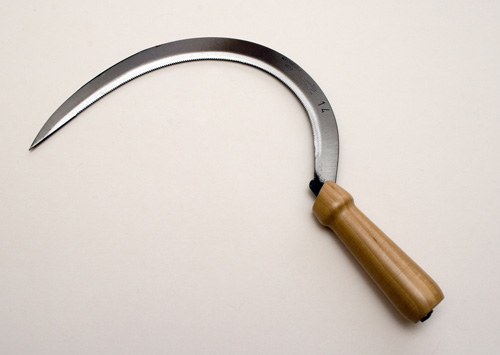 A sickle is a hand-held agricultural tool used to harvest crops such as barley and wheat. In Bible times, the first fruit of the year to harvest was barley. The barley overcomes are God's elite group that will be the first ones ready for the second coming. An example of this is given in Ruth:
Ruth 2:23 – And she cleaveth to the young women of Boaz to glean, till the completion of the barley-harvest, and of the wheat-harvest, and she dwelleth with her mother-in-law. (YLT)
Ruth stayed with her mother-in-law during the time of the barley harvest. This took place from Passover to Pentecost, which is about seven weeks. She then continued through to the wheat harvest. So we can differ that the barley overcomers will begin their work with Christ at the second coming, and continue through to the second phase of the wheat harvest. This means the elite Christians will help believers become even better.
Page 3 of 5

< Previous &nbsp &nbsp &nbsp &nbsp &nbsp &nbsp &nbsp &nbsp &nbsp &nbsp &nbsp &nbsp &nbsp &nbsp &nbsp &nbsp &nbsp &nbsp &nbsp &nbsp &nbsp &nbsp &nbsp Next Page of Revelation >