Rapture
The Tribulation ( Rapture ) Theory
The tribulation theory is that during the end times, a "rapture" will occur in which Christians will be taken up from Earth and gathered together in the air to meet with Jesus Christ at His second coming, and go to heaven. The theory also says that during this time there will be a seven year period of "tribulation," in which there will be huge natural disasters on Earth. There also several variations to this theory based on when the rapture will occur, pre-tribulation (most common), mid-tribulation, or post-tribulation.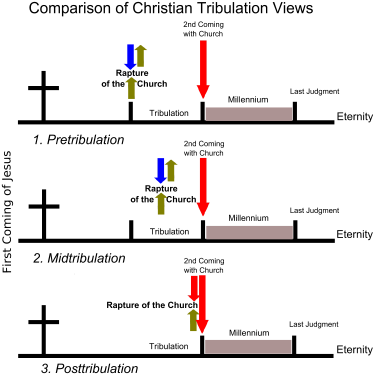 Where did this theory come from? It first came from a Spanish Jesuit named Manuel de Lacunza y Diaz who wrote a book called The Coming of Messiah in Glory and Majesty which was published in Spanish in 1812. It was later translated into English and re-published in 1827. Lacunza stated that the book of Revelation was a book of prophecy and spoke of future events. However, all Christians, Protestants, and Bible scholars at this time viewed Revelation as a book of history, starting from the early Church after the death of Christ. Lacunza's main assumption to prove this theory is that the Biblical "Church" did not begin until the Roman Catholic Church. However, "Church" actually means a congregation of people, not an organization of buildings. The Greek word for Church is ecclesia:
Hebrews 2:12 – saying, I will proclaim Thy name to My brethren, in the midst of the congregation (ecclesia) I will sing Thy praise. (NASB, comment added)
Matthew 18:20 – for where there are two or three gathered together – to my name, there am I in the midst of them. (YLT)
From Hebrews we can see that a congregation is the correct meaning of Church. Even Jesus says that the Church is where two or three people gather in His name. Being a Christian does not mean you are apart of a club, or a member of an organization. It means you have a personal relationship with Jesus Christ. Any organization which requires people to "join" them and have a good-standing relationship with the leaders of the organization is nothing more than a cult. The Christian Church is simply a gathering of people which show you how to have a relationship with Jesus Christ, not with their leaders. This is why I disagree when Churches of today want you to "become a member." I do not need a membership card to follow Jesus Christ.
Page 1 of 4